Cloud based timesheet softwares are far better than timesheets created in MS Excel for many reasons for businesses and freelancers because they're a faster and more economical solution for storing work hours. They're also more reliable and more precise because you'll have all your information automatically computed according to experimented formulas, and then saved in a protected place.
Cloud based timesheet softwares
To get a complete hold on the advantages of cloud based timesheet softwares over Excel or printed timesheets, let's discuss how Excel timesheets work and how timesheet software work – and how the limitations of Excel timesheets highlight the benefits of using timesheet software to save and add your work hours.
Tracking work hours in a timesheet generated in MS Excel is a kind of manual data entry that involves: adding your work hours, adding your employee details and determining your cumulative work hours and any other extra data asked.
Using a timesheet software
It's quick and simple to add time. You calculate your hours and set your hourly rates, and see the software do the computations automatically. You'll cut the costs of your business. Timelo is cheap cloud based timesheet software for an unlimited number of users, so you won't have to hire anyone to compile billing and invoicing and said timesheets. Also, Timelo is providing 15-day free trial with no credit card required.
You'll make several mistakes. Unless you add the incorrect hours yourself, you won't have to bother that your total work hours or wages will be counted incorrectly. Ultimately, you'll make certain your information is always accurate. You'll be sure that you're submissive with business rules and regulations.
You'll be able to determine everything automatically. This comprises the primary work hours calculations, but also your incomes and the total time added per custom period. This will automatically increase your productivity.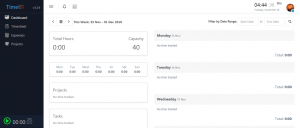 You'll be capable to determine all your time off individually. You can create separate projects for "Vacations", "Sick Leave", "and Lunch break" and then add time for them in your timesheet and have their totals counted individually.
A whole organization can securely save their timesheets in one place. You can invite an unlimited number of team members and have them fill out their timesheets in one workspace.
https://cdn.timelo.com/wp-content/uploads/2020/01/10030052/advantages-of-cloud-based-timesheet-softwares-over-excel-or-printed-timesheets-0.jpg
450
845
Shay Michael
https://timelo.com/wp-content/uploads/2018/11/timelo-logo-300x71.png
Shay Michael
2020-01-16 03:32:23
2020-11-06 05:35:04
Advantages of Cloud Based Timesheet Softwares over Excel or Printed Timesheets