A time tracking software is an essential as well as an efficient tool for small and big firms alike as it gives easy access to managers and the owners of the company to track the activity and the performance of their employees. One of the most difficult jobs in any business is trying to keep a record of how the workers are consuming their time. In this article, we will discuss the benefits of time tracking software and how it can improve your business.
Benefits of Time Tracking Software
Better Production
Employees who keep the record of their working hours are more prone to have better time management skills while completing their tasks. Time tracking assists workers record the progress of their job in an elegant aspect while neglecting the external disturbances that may typically be an obstacle (chatting on the phone, browsing the internet, unnecessary socializing).
More often, companies will start various projects and operate on all of them at the same time. However, too much time allocated on one project may not deserve it for the end goal; time tracking software can benefit managers to distinguish and exclude projects that aren't critical to progress and thus improve profits.
Better Accountability
For the success of any project, each member of the team needs to believe valuable and necessary to the project company undertakes. Time tracking tool builds accountability amongst operating teams because it notifies their owners of related things like which employees finished certain tasks when the tasks were accomplished and how much time was allocated to each task.
Time-tracking strengthens liability within the employees themselves. When time-tracking is implemented, employees are more apt to perform tasks with improved performance and are more liable to keep themselves responsible for their improvement throughout projects.
Better Transparency
Managers designate jobs for their employees to perform, but they usually know very little about the working method. Time tracking software gives full transparency about the tasks being completed, how long they are taking to get completed, and highlight which other tasks are being overlooked. The clarity can enable managers to re-examine their employee's workload and equip them with the support needed so they can perform their tasks fast and efficiently. Jobs that are taking too much time to perform can be reviewed by employers and optimized so that they do not interrupt the working process.
Better Scheduling
A friendly environment is essential in every firm and as an owner of the firm, you have to build trust with your employees to come in on time, take their scheduled breaks, and work until the end of the working day. However, it is improbable that each of your employees will describe days that they arrive late to work or leave early.
No doubt that your employees are the assets of your company but you deserve the power to know the right amount of money they are owed. Time tracking software can save businesses thousands of dollars every year by appropriately paying out their employees without mistake.
Better Payroll
It is frequently seen that in organizations that do not make use of this time tracking website, computing the payroll for the employees, gradually becomes a disturbing and time-consuming job, which is usually filled with many mistakes. Time and resources consumed in calculating the payroll for each employee should be placed too much better and fruitful use.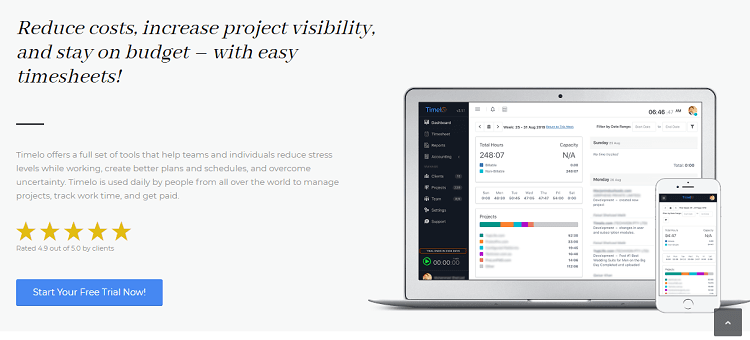 Moreover, the software benefits employees as well, as it helps them to identify if there have been any accidental additions or reductions in their salary. If such is the case, they can instantly go and correct the problem, without any problem at all.
Better Client Billing
Another difficulty that many firms encounter is client billing. Clients must be accurately billed and in a precise amount of time. Without time tracking software, this doesn't always happen. For example, if your company is one that bills clients by the hour rather than by the project, using this software will assure that customers are charged the right cost.
Helps to find out problems
The benefits of time tracking software do not end here; you must ensure that you keep trustworthy software that has a reliable name and is befitted to your plan. For that purpose, we recommend Timelo as it is providing 15-day free trial with no credit card required and the best part, it is supported by all the three platforms that is windows, iOS and android.
A big advantage of the software is that identifying any difficulty in the workforce becomes rather simple to do. Once such difficulties have been sorted out properly then only will the firm be capable to move forward and accomplish greater tasks.
Project Management
Time tracking software also enables companies to monitor support for projects, track assignments, and even add special notes to different tasks so everyone knows what has been done, and what requires to be done. It also adds assistance for documentation of costs (billable and non-billable), as well as invoice creation.
Improve Employee's Morale and Confidence
Possibly the most underestimated feature of time tracking software is that it can strengthen feelings of faith and honor in your employees that can enhance their performance and overall productivity.
A time tracking software will give your employees a sense of quality competition and recognition. He will see his performance himself and will try to improve it that will ultimately increase his morale and confidence which in turn beneficial for the company.
https://cdn.timelo.com/wp-content/uploads/2019/10/10162141/benefits-of-time-tracking-software-timelo-a-complete-tool-for-business-1.jpg
450
845
Shay Michael
https://timelo.com/wp-content/uploads/2018/11/timelo-logo-300x71.png
Shay Michael
2019-10-29 04:44:09
2020-11-06 05:27:32
Benefits of Time Tracking Software: Timelo a Complete Tool for Business